Mission Bend Maid Services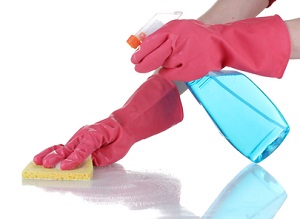 A clean and well-organized home is important to you as a homeowner, and it's also a crucial part of any comfortable life. Whether your house cleaning duties have gotten away from you in the last month or you're finding yourself too busy to keep up with the cleaning of your Mission Bend, TX home on a regular basis, our professionals have cleaning services that can be completely tailored to your needs. Joyce Darden Cleaning Services offers weekly, bi-weekly and even one-time cleaning services, so we're always able to provide you with whatever services you need for your home.
Our house cleaning professionals will always be ready to do whatever it takes to make sure that your home is kept as clean as possible, and we provide only the most thorough work possible. We know that a clean home is very important to you and your family, so we constantly strive to provide our clients with a Mission Bend maid service that exceeds their expectations. We also provide commercial cleaning services, and at every job we perform, we guarantee your complete satisfaction with our work.
Give us a call today to discuss the services that we provide, or to schedule your appointment!
Spring Cleaning Services in Mission Bend
Our spring cleaning services are a one-time, in-depth cleaning of your home, and they can be a great way to boost the cleanliness of your home and help you create a comfortable and enjoyable living space. Even if you're able to stay up on most of your cleaning tasks throughout the year, many parts of your home will still never get the attention they need. Baseboards, walls, and crevices slowly accumulate dirt and grime over time, and a thorough Mission Bend spring cleaning can get rid of all of that and more.
Regular Housekeeping Services in Mission Bend
Keeping your home as clean as you would like to be sometimes simply isn't practical. People very frequently become to stressed and too busy to either make or find the time to keep their homes in the condition they would like them to be. And there isn't anyone who's able to keep their home totally clean a hundred percent of the time.
Our Mission Bend cleaning services are designed to take that responsibility away from you and still give you the comfortable home that you deserve. We'll set up a cleaning schedule that will work for you, whether it's weekly or monthly, and we'll make sure that your home is as clean and healthy as possible.
We understand how important a clean, healthy, and comfortable home is to the daily lives of you and your family, so we'll do whatever it takes to make sure that's what you get.


Mission Bend, TX
What Mission Bend Homeowners Are Saying About Us
Joyce Darden Cleaning Services appreciates your feedback. Please give us more time to collect your reviews and they will be displayed below.
---
Recent Articles
Clean a Little as You Go

Clean As You Go Try to save time by keeping your home organized. If you take out something to use it, make certain you put it back when you are done. This comes down to basic common sense but you'll be amazed how often this doesn't happen. Clutter builds up extremely quick in a…

Read More

How to Decorate Your Home for the Holidays on a Budget

The holidays are coming. Is your home ready? 5 Tips for Decorating Your Home *Make sure your home is clean-Call us to make your home beautiful. *Decide on a color theme for the holidays and stick to 2 colors. *Take one room at a time and start the decorating process. *Make decorating for the holiday…

Read More

If you are looking for a Mission Bend maid service then please call 281-809-0910 or complete our online request form.