Light House Cleaning Services In Houston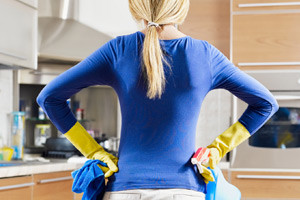 At Joyce Darden Cleaning Services, we offer Light House Cleaning Services to Houston area homeowners. This service is perfect for those interested in a straightening up once or twice a week instead of a more detailed, whole house cleaning.
There are plenty of times as a homeowner that you just can't seem to keep up with the house cleaning and other chores. Many of us work hard for a living every day, so it's no wonder the chore list tends to build up and bury us on the weekends.
You need your home clean but only need to have it kept up during the week. There's many homes we service where the homeowner loves the function of the home as is and only wishes to ensure the clutter and dust doesn't get away from them.
While it may not take much for experienced professionals to handle this type of light cleaning, it can take quite a bit of time and effort for others. Instead of using your weekend time to keep your house up, why not let us take care of those chores and spend time with your family or time doing your favorite hobbies instead?
Our Light House Cleaning Services in Houston are a great way to keep your home looking great! Instead of you having to bother or worry about keeping the dishes clean, straightening up the clutter, keeping ashtrays emptied or the floor swept, vacuuming the floor, cleaning out the shower or sink, or keeping those little details up all week, give us a call and we'll help your through your weekly chore list!
At Joyce Darden Cleaning Services, we're passionate about cleaning! There's nothing better than knowing our customers appreciate what we've done for them. And keeping your home looking smart and ready for guests with the little touches that make such a big difference is our favorite way to clean your home.
Benefits Of Our Light Cleaning Services
When clutter gets away from you, it builds up and creates havoc for your nerves. Have you ever noticed that the more cluttered your home is, the more stress you feel? This is true for most of us because while we don't all like to live in extreme cleaned environments, we all need some organization at home.
But that takes time many of us don't have. That's when you need a professional to come in and take care of it for you. When the little things matter, you'll be glad to have them picked up, spiffed up, and put away where they belong.
Joyce Darden Cleaning Services offer you a variety of ways to keep your home clean including deep cleaning with our Spring Cleaning Service, Weekly or Bi-Weekly Cleaning, Light Cleaning, Estate Cleaning and more. Give us a call and we'll be glad to provide you with all your cleaning needs!
If you are looking for Light House Cleaning Services in Houston, then please call 281-809-0910 or complete our online request form.