Professional Maid Service in Woodlands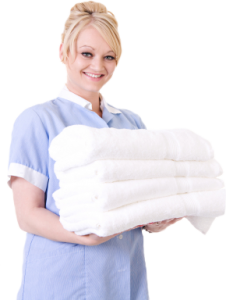 Slaving over cleaning your home is the last thing you want to do when you get home from work; this is exactly why you should consider getting the assistance of a professional maid service. Keeping your home looking great year round is a full-time job, but the assistance of a house cleaning service can help alleviate that stress. A professional Woodlands maid service will make a major difference when it comes to the look and comfort that your home.
Have your home cleaning handled by Joyce Darden Cleaning Services, and we can have you returning to a spotless Woodlands house. When you call on our Maid Service, you only get proficient, experienced work that will leave the inside of your home looking spotless. To get the very best in cleaning services, make certain you give Joyce Darden Cleaning Services and get a free assessment and consultation!
Our Woodlands Cleaning Service Makes the Difference
Finding professional maids that you can trust in your home is sometimes difficult, which is why we remove the headache from this process by only offering only licensed and insured cleaning professionals who have all undergone extensive background checks. Keeping your home safe is very important, and we only hire trustworthy staff so we can continuously offer you the best in Woodlands house cleaning services. Our maid service stands apart from the competition, which is why we are awarded the ARCSI Residential Cleaning Seal of Excellence by the Association of Residential Cleaning Services.
Woodlands House Cleaning
If you've been struggling to keep your home clean, then you need to stop fussing over the details and hire the professionals at Joyce Darden Cleaning Services. We can take care of all of your interior house cleaning needs and leave your home spotless. If you want to experience a clean, organized home, year round, without having to waste your weekends cleaning, see about getting the attention of our affordable maid service.
Post Construction Clean Up in Woodlands
When you've just finished undergoing a major DIY or professional home remodeling project, you will need the assistance of Woodlands post construction cleaning experts. Trying to clean up after these efforts can be daunting, but we have the right equipment and training to take care of all the necessary cleaning without any issue. We can have your home looking spotless in no time, so you can enjoy your new home improvements without the stress of house cleaning.


Woodlands, TX
What Woodlands Homeowners Are Saying About Us
---
I was ashamed to have people come to my house. Now my family is visiting. They got rid of the clutter. Thank you, Joyce!

---



Recent Articles
Rental House Cleaning – What A Quality New Renter Expects

After a renter moves out of a rental house or apartment, the owner of the property is usually left with a huge mess to clean up. There could be little to nothing of the renter's personal property left behind or a whole house full of stuff. Unfortunately, if they leave everything behind, the owner of…

Read More

Ways to Keep Your Home Looking Good During the Winter

It is that time of year again--time when the weather gets cold. Sometimes it is hard to get motivated to keep the house clean because of the chill in the home. Don't let your home lose it's flavor. Keep your home looking nice during the weather. Below are 5 tips for Keeping Your Home Looking…

Read More

If you are looking for a Woodlands maid service then please call 281-809-0910 or complete our online request form.