Outstanding Conroe Maid Service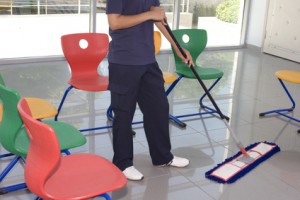 In order to maximize your enjoyment of your Conroe home or business, it is important to have your property in a state of cleanliness. When your property is clean, you can utilize it for all of its intended purposes. When your property is dirty, then you and your family cannot enjoy your home in the ways that they want. When your business property is dirty, your customers question the quality of your work and your employees become less productive.
At Joyce Darden Cleaning Services, we provide professional house cleaning services to the Conroe area. Our Conroe maid service specializes in both residential and commercial property cleanings. We take pride in the quality of our cleaning services. We work with our customers to provide the customized cleaning and Maid Services that fit each of our customers' unique needs.
Our professional maids are all very courteous and highly professional. We have a great deal of cleaning experience and can handle even the toughest jobs. In each cleaning task, we put to work our high standard of excellence and superior attention to detail in order to give you the best level of clean in your Conroe home.
Call us today to discuss how our cleaning and maid services can improve your home or business. Our staff is eager to help you in any way that we can. We are always happy to answer any questions Conroe residents may have about our services. We can set up your appointment today.
Conroe Commercial Cleaning Services
At Joyce Darden Cleaning Services, we understand that your commercial property must be clean in order for your business to be as profitable as possible. Our professional Conroe maids can provide you with the cleaning solutions that maximize your business' potential. We guarantee that you will be completely satisfied with our cleaning and maid services.
A dirty or unsightly commercial property detracts from a business in two ways. First, your employees will be less productive because interior clutter can compromise the available uses of a workplace and because general dirtiness will cause them to be less motivated. Second, if any clients enter your business property, this general dirtiness is likely to cause them to think less of the services you provide.
As such, it is important that you keep your Conroe commercial property in pristine condition. Our cleaning professionals can work with you to ensure that your business does not suffer from unsightly dirtiness.
House Cleaning in Conroe, TX
In addition to our superior commercial maid service, we are proud to provide a full range of residential house cleaning services to the Conroe community. We can provide Conroe house cleaning services to meet any of your cleaning needs, from one time extensive cleaning jobs to weekly routine cleanings that will keep your Conroe property in the best condition.


Conroe, TX
What Conroe Homeowners Are Saying About Us
Joyce Darden Cleaning Services appreciates your feedback. Please give us more time to collect your reviews and they will be displayed below.
---
Recent Articles
Rental House Cleaning – What A Quality New Renter Expects

After a renter moves out of a rental house or apartment, the owner of the property is usually left with a huge mess to clean up. There could be little to nothing of the renter's personal property left behind or a whole house full of stuff. Unfortunately, if they leave everything behind, the owner of…

Read More

How to Decorate Your Home for the Holidays on a Budget

The holidays are coming. Is your home ready? 5 Tips for Decorating Your Home *Make sure your home is clean-Call us to make your home beautiful. *Decide on a color theme for the holidays and stick to 2 colors. *Take one room at a time and start the decorating process. *Make decorating for the holiday…

Read More

If you are in need of a professional maid service in Conroe, call Joyce Darden Cleaning Services at 281-809-0910, or fill out our online request form.