Are You looking For A Humble Maid Service?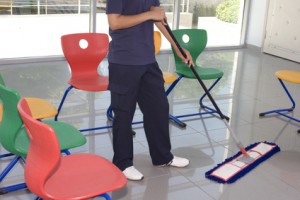 Keeping your home clean is a serious hassle, especially when it comes to taking care of all those hard to reach places. After you've spent all day at work, the last thing you want to do is spend what precious free time you have dusting ceiling fans and mopping floors. This is why you should see about benefiting from the assistance of a Humble maid service.
When you need the best Maid Service, give Joyce Darden Cleaning Services a call and talk to one of our experienced house cleaning contractors for a free consultation!
Our Humble Cleaning Service Advantage
For the leader in home cleaning services, you need to make sure you go with the best house cleaning company in the Humble area by choosing Joyce Darden Cleaning Services. We take great pride in our work and have established ourselves as the premiere house cleaning contractors, having been awarded the ARCSI Residential Cleaning Seal of Excellence by the Association of Residential Cleaning services. Getting our professional Humble house cleaning services means that you will be treated to the most reliable quality maid service that can be provided. You don't want to let just anyone into your home, which is why all of our personnel are uniformed, insured, and licensed professionals who take their job and the work they do seriously.
Post Construction Cleaning in Humble
If you've been undergoing DIY remodeling work, or that conducted by a professional, you are familiar with the mess that this kind of home improvement work can leave behind. When it comes to the cleanup, there's no reason that you have to take care of all of it yourself when you can have the assistance of a professional maid service there to help! At Joyce Darden Cleaning Services we can handle all of your Humble construction cleaning needs and get your interior sparkling clean!
Humble House Cleaning
Keeping the interior of your home clean can be a serious effort, especially if you work five days a week! When it comes to your free time, you don't want to waste it scrubbing floors and dusting blinds, instead get the service of a professional Humble maid service. With the assistance of Joyce Darden Cleaning Services you will be able to enjoy an organized and clean home year rounds, without ever having to break a sweat!


Humble, TX
What Humble Homeowners Are Saying About Us
---
They are honest, responsible individuals who take pride in their work and whom I would highly recommend.

---



Recent Articles
Clean a Little as You Go

Clean As You Go Try to save time by keeping your home organized. If you take out something to use it, make certain you put it back when you are done. This comes down to basic common sense but you'll be amazed how often this doesn't happen. Clutter builds up extremely quick in a…

Read More

Professional Carpet Cleaning Advantage

Your home's carpets can collect grime, dirt, and dust, and can be a serious problem to clean, as well as provide a problem to anyone in your home that might suffer from a breathing complication. Numerous allergens such as pet dander will gather in your carpet and sometimes regular vacuuming just enough to eliminate these…

Read More

If you are looking for a Humble maid service then please call 281-809-0910 or complete our online request form.