Houston Estate House Cleaning Service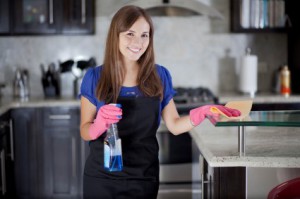 Finding the right Houston maid service for your estate is difficult, as these large routine cleaning projects require experienced professionals who have the training needed to properly approach this task. At Joyce Darden Cleaning Services, we have the know-how needed to provide you with the best customer service experience, and know how to take care of these large routine house cleaning services. We conduct our cleaning room by room to ensure that we do not get in the way of our clients while providing thorough results that will add a pristine sparkle to every room of your estate.
The attention of a professional estate house cleaning service is practically required when it comes to maintaining such a large interior. This is why when you call on us you will not get the service of several contractors who will operate in concert to deliver the best and most timely house cleaning services possible.
Our Estate Cleaning Service Also Provides:
Garage cleaning
Weekly maid services
Construction house cleaning
Handyman Services
If you want to save time and want trustworthy maids that set us apart from the competition, you do not need to look anywhere other than Joyce Darden Cleaning Services. Give us a call today and schedule an appointment from our Houston estate house cleaning services.
House Cleaning Services for Houston Estates
There's no reason that it has to be difficult to find the help of an maid service that you can trust. By turning to Joyce Darden Cleaning Services you can receive the best option for Houston estate cleaning services. We are able to adapt to all of your estate cleaning requirements, including weekly, bi-weekly, or even deep house cleaning and spring house cleaning services.
By taking advantage of our estate cleaning services you can keep the interior of your home looking great, without interruption to your daily life. You can trust each of our maids with your estate house needs, as every one of our employees has undergone background checks and are licensed cleaning professionals. We are proud of the customer service reputation that we have established and know you will be pleased with the result of our estate house cleaning services.
Our Houston Estate Cleaning Maids Provide These Services
House cleaning services
Home cleaning services
Estate cleaning services
Maid service
House keeping
Estate cleaning
Cleaning services
Home cleaning
House cleaning
Recent Articles
Clean a Little as You Go

Clean As You Go Try to save time by keeping your home organized. If you take out something to use it, make certain you put it back when you are done. This comes down to basic common sense but you'll be amazed how often this doesn't happen. Clutter builds up extremely quick in a…

Read More

Having A Professional Cleaning Advantage

Maintaining a high level of cleanliness and organization in your home can be difficult when you live a busy life. This can make it so that the need to rely on professional house cleaners becomes very real if you want to keep a clean and orderly environment. There are numerous advantages to having a professional…

Read More

If you are looking for professional estate house cleaning services in Houston, then please call 281-809-0910 or complete our online request form.