Weekly, Bi-Weekly, or Spring Cleaning Maids in League City, TX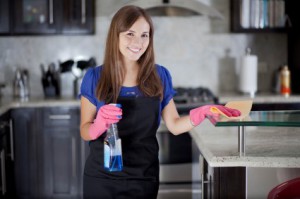 Are you a League City homeowner in need of regular or deep cleaning maid services? If so, you'll love our work here at Joyce Darden Cleaning Services! We've built a quality reputation we're proud of in the League City and Houston areas for the last twenty or so years.
Finding the right company to help you with all your cleaning needs is important, especially since your home needs regular attention and you need a company that handles it correctly. Our Maid Service can handle all your regular cleaning or deep cleaning including carpet cleaning, window cleaning, air duct cleaning, post construction cleaning, and more!
Our deep cleaning, or Spring Cleaning services get your home thoroughly clean from top to bottom with every corner of your house looking as it did when new. Whether you're looking for maid service now or later, or would like to have a weekly or bi-weekly cleaning, give our League City Maid Service a call with any questions you may have and we'll be glad to go over your needs with you!
League City Weekly Or Bi-Weekly Cleaning Maids
If you've tried other cleaning maid services and been left frustrated, we understand why here at Joyce Darden Cleaning Services. As a professional cleaning service company, we've worked for plenty of homeowners who complain that their prior maid services were unreliable in differing ways. From not providing the cleaning service standard they say they will to not even showing up, homeowners in the Houston area are often left with a lot to be desired from their cleaning services.
At Joyce Darden, we provide weekly or bi-weekly cleaning that you can count on. And what's great is our flexibility and experience to handle all your cleaning needs, not just regular cleaning. There's different times you need a thorough deep clean, or a move out or move in clean that's more in depth than the weekly services allow for. We'll be happy to listen to your needs and tailor a plan around your needs for your individual home.
Spring Cleaning Maids In League City
Spring Cleaning time is here year round League City! Give us a call because we can't wait to get started on your deep cleaning needs this year! Let us spring clean for you a couple of times a year and your home will thank you, but so will all your friends and family. Spring cleaning gets rid of much of your dust and allergens that are stuck in your carpeting and on your upholstery or window treatments. As the best maids around, our spring cleaning specialists have every inch of your space handled!


League City, TX
What League City Homeowners Are Saying About Us
Joyce Darden Cleaning appreciates your feedback. Please give us more time to collect your reviews and they will be displayed below.
---
Recent Articles
Ways to Keep Your Home Looking Good During the Winter

It is that time of year again--time when the weather gets cold. Sometimes it is hard to get motivated to keep the house clean because of the chill in the home. Don't let your home lose it's flavor. Keep your home looking nice during the weather. Below are 5 tips for Keeping Your Home Looking…

Read More

Clean a Little as You Go

Clean As You Go Try to save time by keeping your home organized. If you take out something to use it, make certain you put it back when you are done. This comes down to basic common sense but you'll be amazed how often this doesn't happen. Clutter builds up extremely quick in a…

Read More

If you are interested in learning more about Weekly, Bi-Weekly, or Spring Cleaning Maids in League City, TX, please call 281-809-0910 or complete our online request form.