Spring Cleaning Maids in La Porte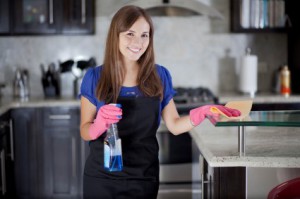 Are you looking for regular weekly, bi-weekly, spring cleaning, estate cleaning, or other Maid Service? If so, you've found a company who can help you with any type of cleaning service you need. Joyce Darden Cleaning Services can handle carpet cleaning, window cleaning, air duct cleaning, post construction cleaning, and more!
Our La Porte Maid Service will clean your house from top to bottom with our deep cleaning or Spring Cleaning Maid services. Every corner of your house will be thoroughly scrubbed, looking as it did when new. Don't move into a dirty home or leave one behind for the next tenant or owner! Hire us for both and you'll have both houses professionally cleaned at great, competitive rates!
Whether you're needing deep cleaning now or later, or would like to have a weekly or bi-weekly cleaning, give us a call with any questions you may have and we'll be glad to go over your needs with you!
La Porte Weekly Or Bi-Weekly Cleaning Maids
Regular cleaning is a great way to keep your home looking fabulous. Hire our weekly or bi-weekly maids for your regular cleaning and you'll not have to worry over details like whether or not your floors were really cleaned. We don't treat you as other cleaning services would, with a great start and steady decline thereafter. Every time we work for you, we give you what we promise. You'll have regular service for your home so you can be proud to entertain guests and know you're living in a healthy environment that's been well taken care of.
Spring Cleaning Maids In La Porte
Our spring cleaning maids utilize the same service standards we have for our regular cleaning, only they're using deeper cleaning methods and materials to clean with. We don't risk your health or others by using the same old rags to clean your commode as we would your sink where you brush your teeth, nor do we cut corners by using the same materials to clean the next home. We ensure you're getting a proper spring cleaning that means proper sanitization as well.
La Porte Estate Cleaning Maids
There's nothing fun about estate cleaning, and by the time it's actually time to clean the estate you're exhausted from handling all the other details of the estate. We understand how difficult it is for you when you're the one left to handle estate cleaning. Let us help you with this burden instead of trying to shoulder all the responsibility on your own.
After twenty years of serving the Houston area, we've helped plenty of estates get the property cleaned up and ready for resale or rental. Trust the cleaning service with experience, trust Joyce Darden Cleaning Services because we're the experts you can count on.

La Porte, TX
What La Porte Homeowners Are Saying About Us
Joyce Darden Cleaning Services appreciates your feedback. Please give us more time to collect your reviews and they will be displayed below.
---
Recent Articles
Professional Carpet Cleaning Advantage

Your home's carpets can collect grime, dirt, and dust, and can be a serious problem to clean, as well as provide a problem to anyone in your home that might suffer from a breathing complication. Numerous allergens such as pet dander will gather in your carpet and sometimes regular vacuuming just enough to eliminate these…

Read More

Rental House Cleaning – What A Quality New Renter Expects

After a renter moves out of a rental house or apartment, the owner of the property is usually left with a huge mess to clean up. There could be little to nothing of the renter's personal property left behind or a whole house full of stuff. Unfortunately, if they leave everything behind, the owner of…

Read More

If you are interested in learning more about Weekly, Bi-Weekly, or Spring Cleaning Maids in La Porte, TX, please call 281-809-0910 or complete our online request form.